Hello! Today I would like to show you how to nicely block a lace border with lots of sweet picots. I know, it may sound time-consuming, but believe me – it's really worth to do it properly! And I have some tips to make it easier for you.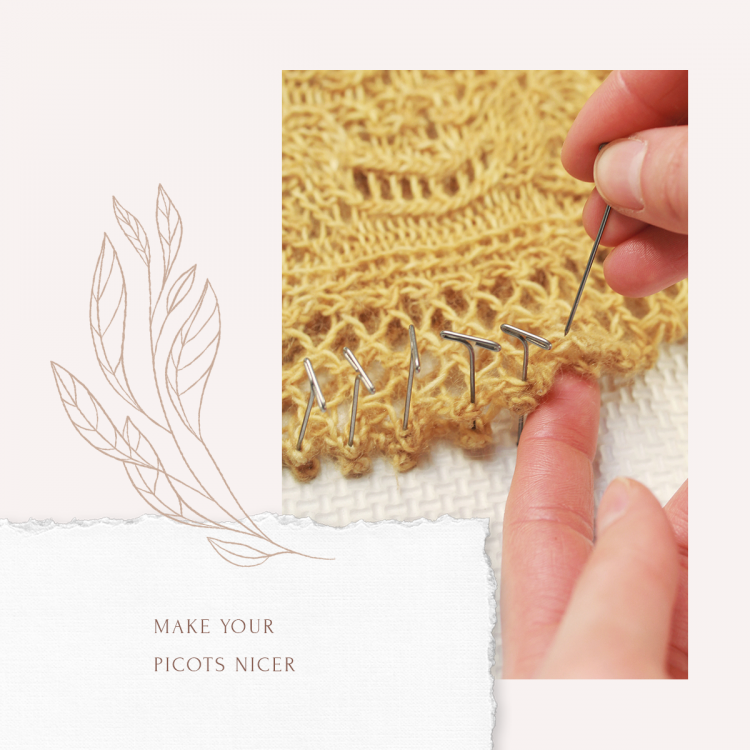 But first, let me tell you a little about picots themselves. I used this cute element in one of my most romantic design: Majula. It's a simple oversized pullover with classic shape, richly decorated with sophisticated lace border. To make it more girlish I framed the bottom edge with numerous dangling little picots! These little ornaments can add unique charm to your project. They may occur with any frequency in different sizes and places – on a delicate collar finishing, on the cuffs or around your romantic shawl. There are several techniques for creating them, which are rather not difficult but usually extend the time of knitting. Nevertheless, I think it's worth giving them a chance, because nothing can replace their loveliness!
When I finished Majula, the border stitches didn't look impressive at all. That's normal! In most cases every "just finished" knitting project demands good soaking and some attention during blocking. Actually, lace patterns need quite a lot of it, especially at the first time, to highlight every single stitch. Fortunately wool has some memory and once it is done, your garment will remember its shape a bit. After next washing, blocking will be easier and sometimes even not necessary!
Tip!

In case of lace borders with picots, I recommend not skipping blocking, no matter how thankless this task seems. Try loving the outcomes instead of hating the process!
We'll use Majula for demonstration, but you can use this method in any project with such decorative border. Let's start!
a laundry bowl
cold water
a delicate wool wash detergent
a towel
blocking mat or any other flat surface
you can pin the garment to
pins
and your knitting project of course!
Fill the laundry bowl with cold water and add a portion of wool wash detergent. Dip your project in the water and push gently to make sure that every piece of it is wet. Leave it for some time (I have never checked how long my knitting projects stay in the bowl, but I think it's between 15-25 minutes, perfect time to make coffee and drink it with no rush!). Take your project out from the bowl, wring it out softly and use the towel to remove as much water as you can. To do it, just wrap your piece of garment with a towel and… stand on it, performing a cute, short dance on top of it :). The less water the shorter the drying time!
With your project drained, lay it flat on the blocking mat. Try to give it the desired shape, align the sides, arrange the neckline and sleeves and finally – the border. Smooth it out by hand to remove crinkles. Pin the sweater down (omit the bottom edge of border) to the mat to prevent it from moving.
As you can see, the lace edge of my Majula sweater doesn't look so bad after bath. OK, the border isn't smooth and fully "open", but definitely better than right after binding off. Even though it's tolerable why don't we make it more beautiful?
While blocking the border, you will pin picots to the blocking mat. You won't have to care about lace part – it will be blocked by the way! Good news, right? In my opinion it's easier to block lace border with picots then without them. A straight edge is not required and any potential unevenness in the length of the picots will not be noticeable at all. 
Tip!

If you are blocking a sweater, skirt or a dress, the border laid down flatly forms two layers of fabric, so you can optimize the blocking process by pinning one picot from the front part and one picot from the back part together. When blocking a shawl, just use one pin for each picot.
Start on one side (correct the arrangement of the border if necessary), grab two corresponding picots and pin together pulling them down strongly. Repeat for all pair of picots. When done, look at your border from distance, checking if every picot is properly pinned and correct if necessary. And this is it!
Now the fun part for the sweater but worst for us begins – waiting until the project is completely dry. It's crucial to remove the pins when it happens, not earlier, otherwise the border will lose some of its shape. It may take even a few days depending on the temperature, air humidity or type of yarn – waiting for it can be really daunting, so I recommend casting on stitches for another dreamed project and lose yourself in it! Good luck!